Tested right in my kitchen so you don't have to worry about any of those embarrassing Pinterest fails, these DIY Valentine's Day treats are pretty fool-proof and are fun, easy, and made with basic supplies that you probably already have in your kitchen.  From bacon bouquets for the hubbies to sweetheart barks for the kiddos, these sweet family treats not only make great gifts but are fun to make together. Because making holiday memories shouldn't be stressful, it should be fun!
Pin it for future Valentine's Days, Sweetest Days, Anniversaries or any other holidays. These DIY's can easily be altered to use any other holiday color or candy so Easter, Halloween, Christmas, etc. are just as easy!
Bacon Bouquet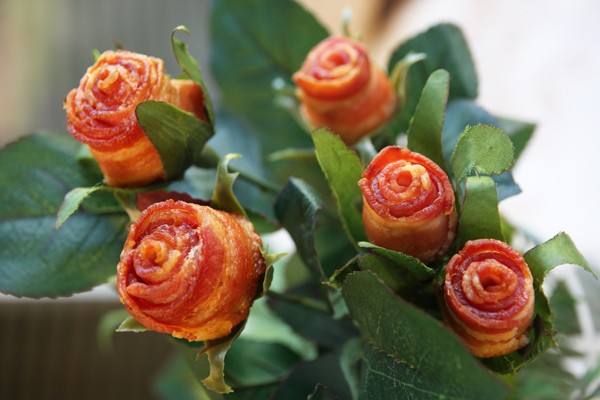 I started making these for my husband a few years ago and it's still a favorite gift for him for Valentine's Day. They're super simple too!
Start with a pack of your favorite type of bacon.
Roll up each slice and secure the bottoms with toothpicks in a criss-cross so they will stand up while cooking (I put the fattier side on the bottom so you get a good red tone on the flower top.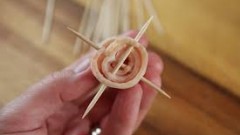 Line each bacon roll on a baking rack (This will keep them from being too soggy if they sit in their own grease while cooking).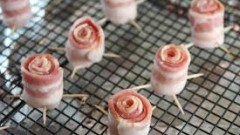 Bake per package instructions for your particular type of bacon. (Mine is 400-degrees for 20-30 minutes)
Let them cool and then skewer each rosette with wooden skewers through the center of each "rose". You can also use toothpicks, or actual flower stems (which you can get from any florist).
Add in a few leafy greens like kale, fresh dill, celery tops, etc to give it a more realistic look
Arrange them in a vase or wrap in tissue paper & tada! You did it! And the hubby is going to LOVE it!
You can also add some dipping sauces to the gift. Some of my favorites are pepper jellies, barbecue sauces or maple syrup.
Sweetheart Bark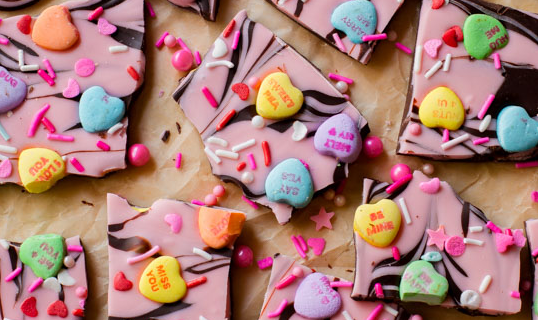 This is a fun treat to make with the kids' help and also a great idea of something they can give to their teachers or classmates. This is another one of those DIY's that you can change to accommodate the occasion. You can change up the type of candies used to whatever colors or flavors you like and recreate this recipe on other holidays like Halloween, Christmas, or any other day of the year.
Start with 2 packages of candy melts or almond bark. (Almond Bark is usually available in Chocolate or Vanilla flavor and you may be able to get melting candy chips in an assortment of colors at any given time of the year).
Then fill several small dishes with your favorite Valentine's Day candies – Sweethearts, Pink pearls, sprinkles, pretzels, dried fruits, etc. Whatever you like.
Melt each color individually according to package directions.
Pour each color of the melted candy onto a parchment covered cookie sheet alternating the areas you pour each color. (You don't have to follow any sort of pattern you just want it the colors to be able to be mixed together. Spread it so it's an even layer.
Using a butter knife, slide it around from color to color to create a swirling pattern in candy.
While the bark is still melted, sprinkle it with all of your favorite candies, spell out names, letters, words. Basically do whatever you like.
Let it set (you can speed up the process by refrigerating it too).
Once it's completely hardened, break it into pieces. Think palm-sized or smaller.
Toss a few pieces into a gift baggie and tie it off with a nice Valentine's colored ribbon and a message tag and you've got some sweet treats ready to gift!
Heart-Shaped Cinnamon Rolls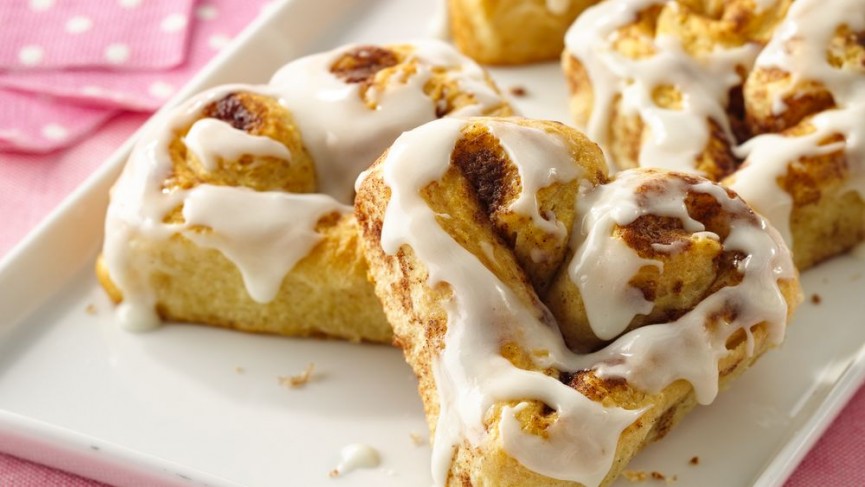 What's better than a warm cinnamon roll topped with ooey gooey icing? A heart-shaped one. These were one of my favorites this year. Not just because they pair perfectly with my morning cup of coffee but because these heart-shaped cinnamon rolls are super easy to make and you don't even have to start them from scratch. These are a treat you can easily make the morning of so you don't even have to get up hours earlier than usual to do it.
Start with a roll of Cinnamon Rolls. You can use any you like really as long as they're actually rolls because we're going to need to unroll them. (I used these Pillsbury Grands Cinnabon Cinnamon Rolls when I've made them):
Preheat your oven to 350-degrees
Pop open the can and separate each roll from the log
Carefully unwind each roll into a long strip
Coil the ends in towards the center and then pinch the bottom into a point. Like this:
Any chunks of cinnamon that come off can be added back into the new nooks and crannies.
Arrange on a cookie sheet.
Bake 13-15 minutes until golden brown.
Let cool 5 minutes then move to a cooling rack and ice them
You can use the icing that's included with the rolls or you can mix it with some of those pink candy melts I mentioned in the previous DIY and add Valentine's Day sprinkles to give them an even more lovey-dovey look. Either way, they're delish.
Individual Valentine's Day Candies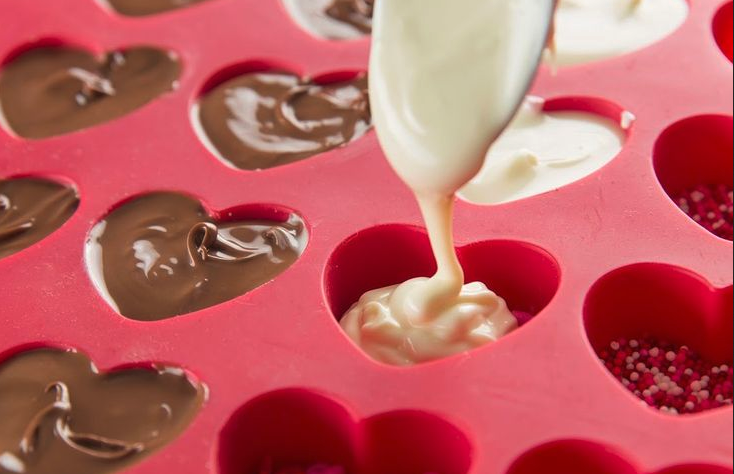 Another super simple DIY you could try this year are your own chocolates and candies or suckers in love-themed shapes.
Just purchase a candy mold online or at your grocery/craft store and use the candy melts similar to the bark recipe above. I like these silicone heart molds and these heart shaped lollipop molds. (And with 28 heart molds you can knock out a whole class worth of treats in one step!)
After melting the candy, fill each mold with it and let it set up. (If you're doing suckers you'll want to add your sucker sticks to the molds before filling them – I used these lollipop sticks that were only $1.75 for 25!)
You could also insert nuts or fruits into them after pouring them into the molds to give them a little extra something-something.
Once it's completed hardened, remove them from the mold and add to your favorite candy dish or package them up into gift baggies with a nice ribbon and card.
Valentine Candy Covered Pretzel Rods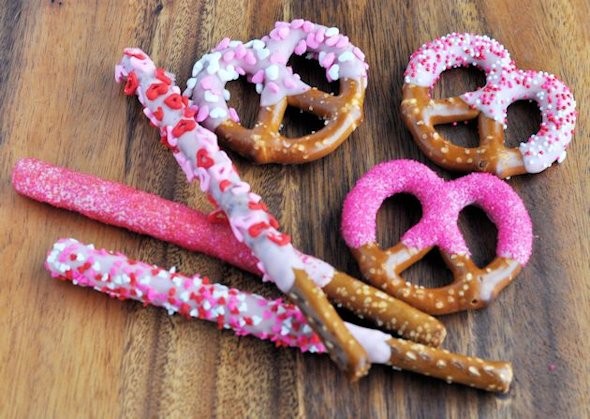 Here's another great idea that's fun for the kids to help with and perfect for classroom Valentine's Day snacks! These were a hit for my daughter's teachers this year and class snack.
Buy Candy melts/chocolate in your choice of colors/flavors & Your choice of pretzels. (We used rods and classic minis for their heart shape).
Melt in microwave-safe bowl according to package instructions
Dip one side of a large pretzel rod into the melted candy (or half of a heart-shaped pretzel – whichever kind you're using).
Roll the candy-dipped end of the pretzel in nuts, sprinkles, candies, etc – whatever you choose.
Place them on a parchment lined cookie sheet so they can dry and harden
Once hardened you can add them to a decorated mason jar or individual gift baggies with a cute ribbon or card to make a perfect gift. Or just place them on a tray or bowl and set them out for party style serving.
Be sure to let me know how these turned out for you if you decide to give any of these ideas a try! You can follow along on Facebook for more great ideas at Happy Wife Happy Life
Save
Save
Save
Save
Save